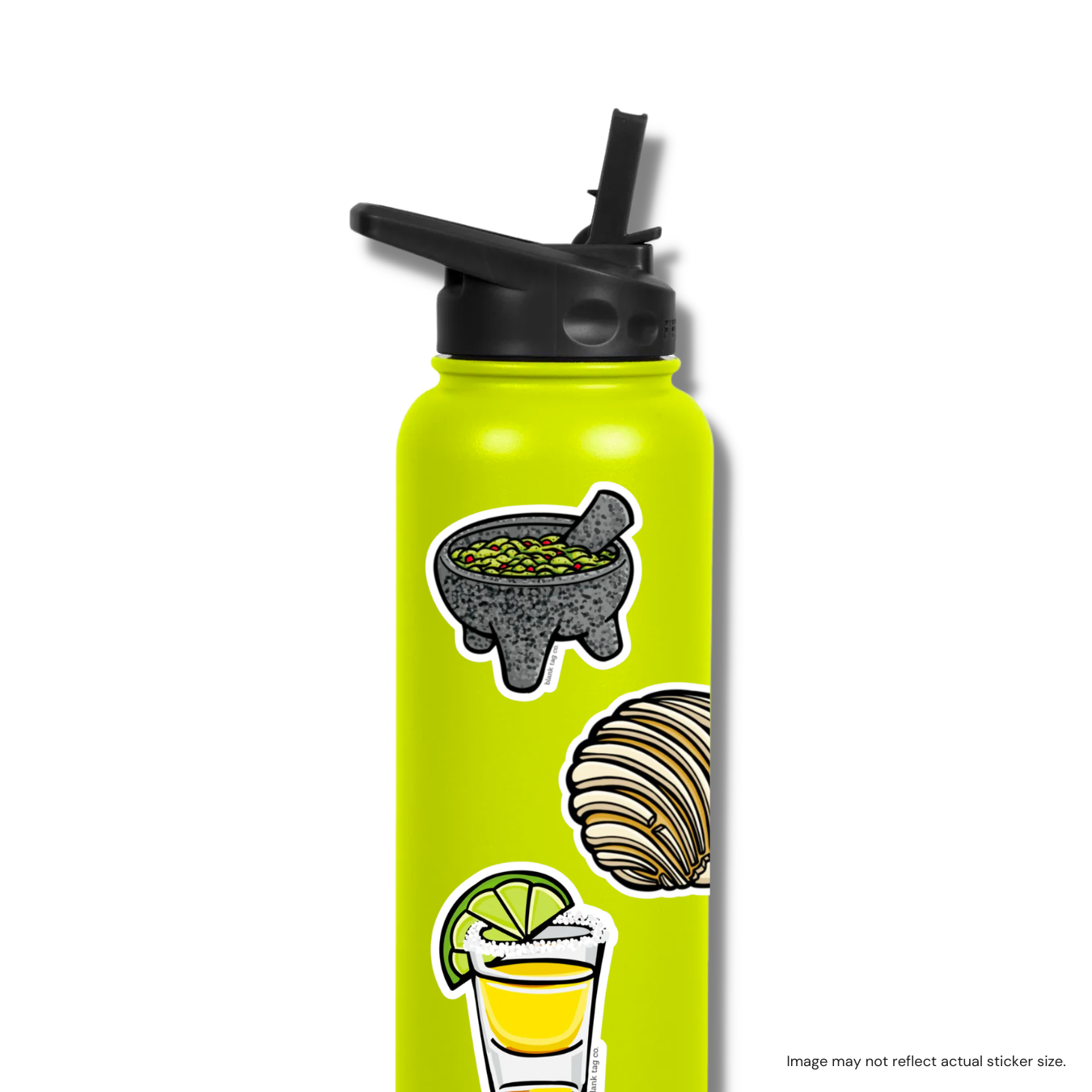 The Vanilla Concha Sticker
---
Walking into la panadería you are overwhelmed by all the pan dulce in sight. No matter what else is displayed, you always end up getting una concha, hoping they still have some white ones. The next morning you drop migajas all over the kitchen table while enjoying it with a taza de cafe de olla grandma just made.
Also pictured: The Molcajete Sticker and The Tequila Shot With Salt Sticker
Specifications:

Made in the U.S.A.
Sticker Size: 3x2.8 in
Material: Thick, Premium Vinyl
This sticker is waterproof, scratch-proof, and weatherproof!
Matte Finish
Thick, Premium Vinyl

Made in the U.S.A.

This sticker is waterproof, scratch-proof, weatherproof and dishwasher safe.
If you are not 100% happy with your stickers from Blank Tag Co. for any reason, you can return your item(s) for a full refund or exchange within 7 days of the stickers arriving. To get a full refund, returns must be unused and in the state you received them (meaning no wrinkles, already peeled, etc.).
We stand behind the quality so much that our stickers come with Lifetime Warranty. If your sticker starts to peel or fade, as a result of normal wear and tear, contact us here and we will replace it free of charge.

Our warranty only applies to our stickers and for the first application of the stickers. Warranty does not apply to stickers that are no longer available on our website.
I love the sticker
The stickers are really great quality and looks and feels different than other stickers I have had and claimed they are water proof love these stickers and would buy them again
I love the sticker
The stickers are really great quality and looks and feels different than other stickers I have had and claimed they are water proof love these stickers and would buy them again
Sticks
I bought these stickers for my kids water flasks and it's perfect I bought a white chonca for my son because if he could he would eat pane con Lexie all day. And pizza also bought the elote for my daughter because she loves them! Thank u so much for these cute stickers 😍
Sticks
I bought these stickers for my kids water flasks and it's perfect I bought a white chonca for my son because if he could he would eat pane con Lexie all day. And pizza also bought the elote for my daughter because she loves them! Thank u so much for these cute stickers 😍